See Kendra's article in the Fall 2012 issue of Ladies Links Fore Golf Magazine:
Peggy Kirk Bell: First Lady of Golf
By Kendra T. Brown, Ph.D
To some, Peggy Kirk Bell's story reads like an old-fashioned fairy tale. An attractive young women falls head over heads in love, rides off into the sunset to a life filled with adventure, travel, fame and fortune, and ultimately arrives at a beautiful "castle" where she lives happily ever after, surrounded by family and receiving visitors daily who come to enjoy the lovely grounds of her kingdom.
But this isn't your average fairy tale. The love of which we speak in none other than golf!
Link to LL4G.com digital magazine:  http://ll4g.com/digitalMagazine.asp
Link to Pine Needles Golfari: http://www.pineneedles-midpines.com/golf-instruction/golfari/ladies-golfari.cfm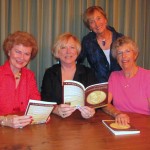 Kendra Brown, PhD. & The Pages
At the Book Launch & Panel Discussion
Blake Library  Stuart, Fl
The Book Launch of  Eavesdropping: As Real Women Talk About the Gifts and Challenges of Aging, published by Rainbow Books of Florida was held at the Bake Library, Stuart, Fl, on October 22, 2012.
Read the full TCPalm.com article by Cynthia Washam…
Read the full TCPalm.com article by Susan Opasik…