Embracing Transitions!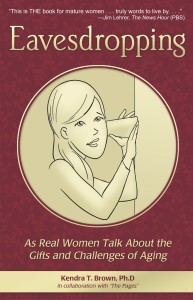 How the greatest generation of women  embrace aging with an open heart, an open mind, and a renewed zest for living.
Millions of women who shaped our nation are now leading a wave of aging adults.  These women started the sexual revolution, marched for civil rights, broke the glass ceiling, ran for President and went to war.  They could – and did – do it all. So, why have many of these physically well and capable women stopped thriving mid-stream, as if everything worthwhile is behind them?
Kendra Brown, Ph.D asked a group of interesting women to meet with her to examine this perplexing question. Their meetings, enthusiastically continued for over three years, and became sources of support and empowerment for the members as they pondered topics of love and loss, obstacles and opportunities, surprises and sticky situations.  Dr. Brown, along with some help from her friends, wove these discussions into a fictional format and their book, Eavesdropping:  As Real Women Talk About the Gifts and Challenges of Aging, was published and is now in its second printing.  Readers can "listen" in on the lively discussions filled with honesty, wisdom and lots of laughter on a range of topics.
 Follow these links for more information about the book:
About the Book    About the Author    The Pages   Where to buy the book
The goals of our website:
To involve, connect, empower and motivate women throughout life's transitions.
Through our monthly newsletters (now in our 2nd year!), we try to advance these goals.  We invite – actually relish – our readers' contributions and comments and, with permission, publish them.
We are currently moving into another phase of our goals.  In 2014, we are providing several kinds of classes, workshops and retreats for women.  It's our experience that women – meeting together in structured groups – often find benefits of shared wisdom and insights to be a powerful catalyst in their individual quests (just as the Pages did – evident to readers of Eavesdropping).
Dr. Brown is currently offering two kinds of groups – open for registration now.  These are described below:
Stress Reduction Workshops, Groups and Retreats
Guided Mindful Meditation
We know that meditation has played a significant and positive role in the lives of many people, from records dating back about 2,500 years.  Today, thanks to scientific technology, the use of meditation has been validated as a means to alleviate anxiety and depression and to contribute to an overall sense of well being.  Persons who meditate daily often find peace and clarity in spite of outward stressors and rapid changes in everyday life.    Click here for more details.
TOOLS FOR SELF-DISCOVERY 101
Healthy Relationships Reduce Stress 
 Dr. Brown brings tried and true cognitive-behavioral strategies and "tools" to her "Healthy Relationships" classes.  Students are provided with a guided self-help workbook.  They have an opportunity to learn together, practice away from class, and discuss what they learned. Click here for more details.
Continuing the conversation through our monthly Newsletters…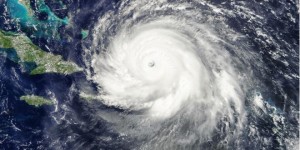 Reflections – Post Irma
For everything there is a season, a time for every activity under heaven.
I love the feeling of this scripture.  It's comforting.  Seasons and activities happen in sequence – logically and orderly, just as they should.  Negatives followed by positives in perfect balance.
Click here to read the full story and subscribe to the monthly newsletter.